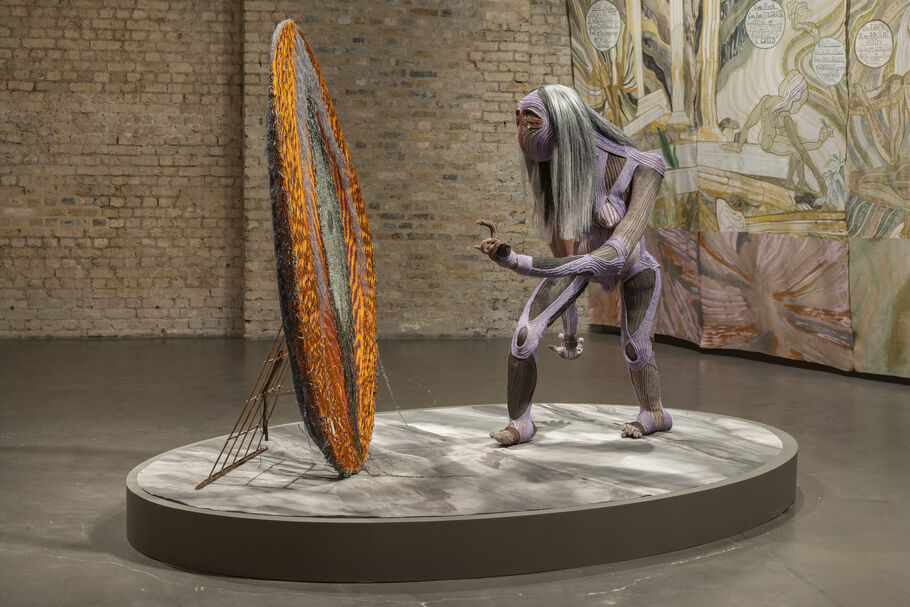 Art
Charlotte Jansen
Emma Talbot, installation view of "The Age / L'Età, Max Mara Art Prize for Women: Emma Talbot" at Whitechapel Gallery, 2022. Photo by Damian Griffiths. Courtesy of Whitechapel Gallery.
"I think of her as a kind of orthopedic samurai," said artist Emma Talbot, while looking wistfully at a textile sculpture that stands at the physical and thematic center of her new exhibition at the Whitechapel Gallery in London.
The striking piece—which shares the show's title, "The Age / L'Età"—depicts a life-size elderly woman, feet bent with bunions, shoulders hunched and head bowed. Sinuous wraps of purple fabric recall both the representations of muscles in Renaissance-era anatomical drawings and the body armor of ancient Rome. Talbot's figure is both terrifying and powerful. Her thick, straight gray hair—a wig bought in Hackney—also looks remarkably similar to Talbot's own. "The figures in my work are always an avatar of me," Talbot said.
Emma Talbot, installation view of Where Do We Come From, What Are We, Where Are We Going?, 2021, in "The Milk of Dreams" at the 59th International Art Exhibition – La Biennale di Venezia, 2022. Photo by Roberto Marossi. Courtesy of La Biennale di Venezia.
The artist is known for her evocative and strongly narrative feminist work across disparate media. Depictions of female forms via large-scale acrylic paintings on silk banners, fabric sculptures, and watercolors on paper have become particular trademarks.
"The Age / L'Età" is Talbot's first institutional solo show, and it will travel to Collezione Maramotti in Reggio Emilia, Italy, in October. "To be able to do something on this scale is transformative," said Talbot of the exhibition, and of entering a new phase in her career—and life—at age 53. "The fact my work now finds itself in these spaces where it has more visibility gives me a lot of confidence." In 2023, the artist will mount exhibitions at China's Beiqiu Contemporary Museum of Art and Frankfurt's Kunsthalle Giessen. Her monumental painting Where Do We Come From, What Are We, Where Are We Going? (2021) is currently installed in the Arsenale as part of the international exhibition at the Venice Biennale, entitled "The Milk of Dreams."
Gustav Klimt, The Three Ages of Woman, 1905. Image via Wikimedia Commons.
Talbot always addresses the political through her personal experiences, but The Age / L'Età, the work, was also inspired by a specific art historical character: the enigmatic elderly woman in Gustav Klimt's 1905 painting The Three Ages of Woman. "The first time I saw that image, I saw the hair and noticed it was the same as mine—and I thought oh my god, that's horrible, that's scary!" Talbot joked. Her reaction prompted deeper questions about fears of aging and society's disregard for the elderly. "We aren't used to seeing elderly people as the hero," she said.
Talbot believes that the exaggerated, crooked stance of Klimt's figure, with her protruding belly and bowed head, evokes "a state of shame about being an aging woman being observed—as if she's ashamed of her body." The artist said, "As I get older, it's fascinating to see what happens to a body, but I kept thinking I wanted to take the figure and make her someone who has a lot of agency, who is strong."
Emma Talbot, detail of Volcanic Landscape, 2022. Photo by Carlo Vannini. Courtesy of the artist and Whitechapel Gallery.
Portrait of Emma Talbot in her studio in Reggio Emilia, April 2022. Photo by Bruno Cattani – Fotosuperstudio.
Talbot has recast Klimt's female figure as an epic heroine who is protected by her knowledge and experience rather than hindered by her physical vulnerability. She appears across two giant, diaphanous, hanging painted silk panels, titled Ruins and Volcanic Landscape (both 2022), and an animated film, The Trials (2022), made from cut-up pieces of the artist's drawings. Talbot's alter ego faces the same challenges as the eponymous hero of the Greek myth known as the "Twelve Labors of Hercules."
Yet instead of combating each obstacle with violence and stealth, she employs the 12 principles of permaculture, the practice of self-sufficient and sustainable agriculture. They include integration, self-regulation, and solution finding. "You don't solve anything by just doing something," Talbot reflected. She deepens the exhibition atmosphere with a vibrating, electronic soundtrack that she composed herself. Sound spills out from the film and floods the gallery space. Talbot's soft sculptural materials and her loose lines, along with her questions addressed to the viewer ("How will you survive in this climate?"), conjure a feeling of fluidity and openness.
Emma Talbot, installation view of "The Age / L'Età, Max Mara Art Prize for Women: Emma Talbot" at Whitechapel Gallery, 2022. Photo by Damian Griffiths. Courtesy of Whitechapel Gallery.
Talbot's aging protagonist faces obstacles that parallel the artist's own struggles. Her career began with promise: She graduated with a first-class BFA from the Birmingham Institute of Art, completed an MA in painting at the Royal College of Art in 1995, and swiftly won the prestigious Rome Scholarship at the British School in Rome. But in 2006, when Talbot's sons were aged six and seven, her husband passed away. Talbot raised her children alone while trying to maintain her burgeoning career as an artist. She began teaching fine art at universities across the U.K., including Goldsmiths, The Slade, and Camberwell College of Art. Her sons are now in their twenties and graduating from art schools themselves.
The artist's own story of resilience, patience, and triumph haunts the Whitechapel exhibition. "Being a single parent with young children takes up a long time, and there are things I can now I couldn't do when they were younger," she said.
Talbot was thrilled to win the 2020 Max Mara Art Prize for Women, which has supported her work and exhibition at the Whitechapel. Yet just as the announcement was made, the world went into lockdown. The pandemic prevented Talbot from starting a six-month residency in Italy that accompanied the annual award. "I had had some group shows at that point, and things were starting to happen, but I was still teaching," Talbot said. "My sons were finally more independent. So when I won the prize it was incredible; I thought I could finally take time out of teaching, travel, and really spend time on my work. I had to go back to teaching online to survive. But it wasn't just happening to me—it was happening to everyone, so you take it in your stride."
Talbot eventually made it to Italy a year and a half later. She spent time in Reggio Emilia, where she now has a studio and is thinking of relocating more permanently. She researched sustainable materials, such as the recycled silk she used in the paintings for the Whitechapel show. The artist also learned about permaculture on a family-run farm on the volcanic Mount Etna, and finally visited the Klimt painting at the Galleria Nazionale d'Arte Moderna in Rome. It first went on display there in 1911, celebrating 50 years since the unification of Italy.
"Reading the work as description of 50 years [since] the unification, it represents old ideas of how people lived—their belief systems, their dialects, and their old ways of being—as shameful, something to put to the side, while promoting the younger figure with the baby—a kind of Madonna and Child—as a pure idea of a modern nation," Talbot said.
Talbot's new body of work considers how such condemnations of the "old ways" contradict our veneration of historic ruins and objects. The artist poses profound questions about our present systems of patriarchal power; about value, use, imagination, and transformation. Her Whitechapel show is fundamentally a story of survival. "In my work there's always a subjective starting point, but then it always has to be located in a context about contemporary issues that matter to me," Talbot reflected.
As for Talbot's elderly samurai doppelganger, the artist said, "I'll really miss her—but the next things I'll do will be different." Learning, adapting, and letting go, after all, are part of the meaning of "The Age / L'Età." "All of the work is about now, the point we're in now," Talbot said. "That's what I want my work to do—to talk about what our life experience is."